Bill Jacobs Total Mile Protection for Used Cars
Elevate Your Pre-Owned Experience with Unmatched Confidence
At Bill Jacobs, we're dedicated to providing you with exceptional vehicles and peace of mind on the road. Introducing the Bill Jacobs Total Mile Protection — an exclusive 3 month/3,000-mile limited powertrain warranty available on all used cars sold at Bill Jacobs dealerships.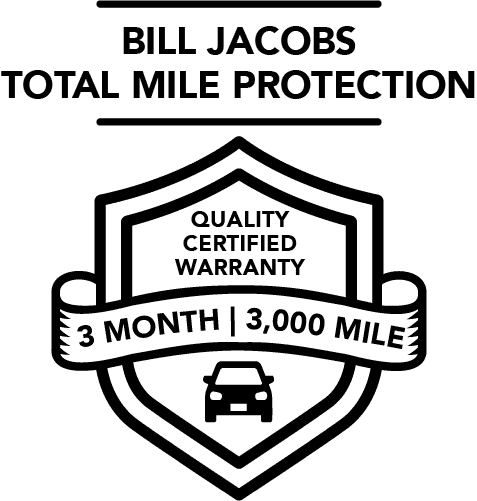 Why Choose Bill Jacobs Total Mile Protection for Used Cars?
Unmatched Assurance
With our Total Mile Protection, you'll have the assurance of a 3 month/3,000-mile limited powertrain warranty, giving you added confidence in your pre-owned vehicle.
Quality You Can Trust
We stand behind the quality of our used cars. Each vehicle undergoes rigorous inspections to ensure it meets our high standards, so you can drive with confidence.
Expert Service & Support
Our factory-trained technicians are committed to keeping your car in peak condition. With Bill Jacobs, you'll have the support you need to enjoy your pre-owned vehicle to the fullest.
Nationwide Coverage
Drive confidently knowing that your Total Mile Protection is honored at authorized service centers across the country. Wherever the road takes you, we're here for you.
Your Next Journey Starts Here
At Bill Jacobs, we understand the importance of a reliable vehicle. That's why we're committed to providing you with the peace of mind you deserve, even with our pre-owned cars. Ready to experience the unmatched confidence of Bill Jacobs Total Mile Protection for used cars? Explore our exceptional range of pre-owned vehicles and elevate your driving experience today.

ADDITIONAL BENEFITS:
Towing Reimbursement

Up to $125 per occurrence if your vehicle is towed to Bill Jacobs and the towing distance is more than 50 miles

Substitute Transportation

Eligible substitute transportation reimbursement if the vehicle is held by Bill Jacobs for a covered repair
Limitations of Coverage:
Certified Pre-Owned vehicles are excluded. Lease buy outs are also excluded. Not applicable on 15 year old vehicles with 200,000 miles or more. A deductible of $250 per visit applies. Certain conditions and components are excluded (outlined below), such as inadequate maintenance or loss of coolant or lubrication of the vehicle, and corrosion. Used, new, remanufactured, or non-OEM parts may be used. Please review your Assurant Vehicle Care Limited Warranty for complete details, including limitations and exclusions.
The following vehicles are excluded from the Bill Jacobs Total Mile Protection Used Car Warranty:
Aston Martin
Bentley
Bugatti
Chevrolet 4500 and higher series trucks/vans
Chrysler Prowler
Dodge Viper
Ferrari
Fisker
Ford 550 and higher series trucks/vans, GT, Roush, Terminator, Saleen
GMC 4500 and higher series trucks/vans
Honda FCX
Hummer H1
Lamborghini
Lexus LF
Lotus
Maserati
Maybach
McLaren
Porsche 918 Spyder, 918 Spyder Hybrid
Ram 4500 and higher series trucks/vans
Rolls Royce
Saab
Tesla
Wheego
V8 Range Rovers/Jaguars (over 4 years old)